April 16th, 2020
Parts per trillion video documentation released
---
September 27th, 2019
Parts per trillion at Contemporary Calgary
Parts per trillion is included in "Dynamic Environment," an exhibition, multi-site public art event, and series of programs presented at Contemporary Calgary and supported by The City of Calgary's WATERSHED+ Public Art Program.
"Culminating three years of research and development, Parts Per Trillion is an artwork that imprints and accumulates human activity within a geological context. It imagines the immense diversity of forces, subjects and objects which inhabit the Bow River Watershed, while alluding to the perspectives of researchers within The City of Calgary's Utilities and Environmental Protection Department, those which allow us to perceive the watershed in astonishing resolution and specificity, in parts per trillion.
Composed of an edition of earthenware ceramic sculptures, each object in this collection is the result of a process that began with the artist 3D scanning a selection of found artifacts relating to the Bow River Watershed. These forms were then reproduced using a ceramic 3D printing process and will be subsequently fired in an excavated pit along the banks of the Bow River in Edworthy Park."
Exhibition Opening and Panel Discussion at Contemporary Calgary, Thursday September 26, 5 - 9pm
Ceramic Pit Firing, Edworthy Park, Friday, September 27, 9am - 6pm
more info
---
May 22nd, 2019
Artist in Residence at the Bemis Center for Contemporary Arts
more info
---
February 10th, 2018
Event Horizon, Space Gallery, Pittsburgh
Featuring:
Leah Beeferman (Brooklyn, NY)
Jerstin Crosby (Chapel Hill, NC)
Steve Gurysh (Pittsburgh, PA)
Jessica Langley (Queens, NY)
Elizabeth McTernan (Berlin, Germany)
more info
---
September 24th, 2017
Logistics A Warehouse, Open Doors Day, Calgary
Artists Steve Gurysh, Tim Knowles, Becky Shaw, Peter von Tiesenhausen, and Stokley Towles, along with personnel from The City of Calgary's Water Resources, will guide the public through a section of the building, highlighting the significance of this space in servicing the city and demonstrate the diversity of professions, skills, and knowledge in Water Services while presenting their research through new works that have been gifted to the inventory by the artists.
---
June 26th, 2016
Release for the Felt Book, curated by the Institute for New Feeling
---
March 25th - April 24th, 2016
Event Horizon @ Knockdown Center, Queens, NY
Curated by Jessica Langley (Queens, NY)
Featuring:
Leah Beeferman (Brooklyn, NY)
Jerstin Crosby (Chapel Hill, NC)
Steve Gurysh (Pittsburgh, PA)
Elizabeth McTernan (Berlin, Germany)
Opening reception: Mar 25, 6-9pm
Gallery hours:
Thursdays-Fridays: 5-9pm
Saturdays-Sundays: 2-6pm
more info
---
January 29th, 2016
Gym of Obsolete Technology at W139, Amsterdam
Curated by Helena Sanders and Margarita Osipian
Featuring:
Amal Alhaag (NL), Michael Brennan (US), Femke Dekker (NL), Craig Fahner (CA), Maria Guggenbichler (DE), Steve Gurysh (US), Nikki Hock (NL), Annika Kappner (DE/NL), Willem Kempers (NL), Guz Konstantin (RU), Jan Robert Leegte (NL), Nicole Martens (NL), Margarita Osipian (CA/NL), Andrés Padilla Domene (MX/FR), Iván Puig (MX), Anna Reutinger (US), Luis Rodil-Fernández (SP), Helena Sanders (US/NL), Cas Spoelstra (NL)
more info
---
January 9 - 16th 2016
Dynamic Environment Lab, Calgary
I'm excited to announce that I have been invited to participate in the
Watershed+ Dynamic Environment Lab
supported by the Public Art Program and the Utilities and Environmental Protection Department of the City of Calgary.
"The Dynamic Environment Lab will immerse five artists in the Utilities and Environmental Protection (UEP) Department, to explore the impacts of living in our continuously shifting, dynamic environment – a watershed that experiences both drought and flood. This issues-based lab nurtured connections between artists, subject matter experts and the local arts community, encouraged critical thinking and supported a mutually beneficial exchange of perspective."
I will be joined by artists Tim Knowles (UK), Becky Shaw (UK), Peter von Tiesenhausen (Alberta), and Stokley Towles (Seattle).
---
September 25th, 2015
Image: still from Vichy Shower by Adham Faramawy
H3O/OO3 : presented by The Drift x CUIR, Pittsburgh
The Drift is pleased to announce H3O/OO3, co-presented with the Center for Urban Intervention Research (CUIR). H3O/OO3 will feature a select presentation of site-responsive video projections, musical performances, and interactive new media works produced by local and international artists. These performances and digital works respond to ideas of fluidity and the mediation of an environmental crisis in a post-internet age, exploring new embodiments of the sublime through uncanny valleys and ever-flowing feeds, touch-sensitive surfaces, and the hyperreality of CGI.
These works will be presented on and along the Allegheny River, viewable from the North Shore Trail beneath the Veteran's Bridge in Pittsburgh, PA.
Additional programming includes a guided kayak tour provided by
Venture Outdoors
for those that register through their website.
Video Projection:
Adham Faramawy
Adam Milner
Ben Moren
Bubi Canal
Caroline Record
Dalena Tran
Hirad Sab
Joe Hamilton
Michael Mallis
Rachael Archibald
Interactive Installation:
Claire Hentschker
Complex Movements
Ezra Miller
Miles Hiroo
Zach Rispoli
Live Performance:
Elysia Crampton
Jesse Stiles
H3O is supported by the Frank-Ratchye STUDIO for Creative Inquiry, the Greater Pittsburgh Arts Council, and Creative Capital.
RSVP on FB
---
August 9 - 28, 2015
HOW TO WATER @ Eastside International, Los Angeles
Eastside International is pleased to present the group show 'HOW TO WATER', curated by Shelley Holcomb and Theo Triantafyllidis. 'HOW TO WATER' is a multimedia exhibition that delves into the depths of the internet to frame the commanding force of our most basic element. Similar to water, the internet is an immersive environment— fluid by nature and residual in its lasting ability to augment our experience of time and space. As our localized crisis continues to grow, and our reservoirs drain barren, will technology present a promising potential sea for preservation or simulation? Utilizing web-interfaces, internet-sourced imagery, installations, and interactive new media as an archival medium for experimentation and mediation, the artists showcased here capture the ephemeral essence of water through virtualizing the basis of its temporality.
ARTISTS:
Adam Ferriss
Alex Rickett
Brenna Murphy
Eva Papamargariti
Ezra Miller
Gergo Kovacs
Joe Hamilton
John Brumley
Julieta Gil
Katie Torn
Rachel Archibald
Sam Newell
Scott Andrew
Steve Gurysh
Theo Triantafyllidis
Vince Mckelvie
Sponsored by UCLA Design Media Arts
Special Thanks to the Drift
LA, 2015 Featured review in the
Creator's Project
---
July 14 - August 5, 2015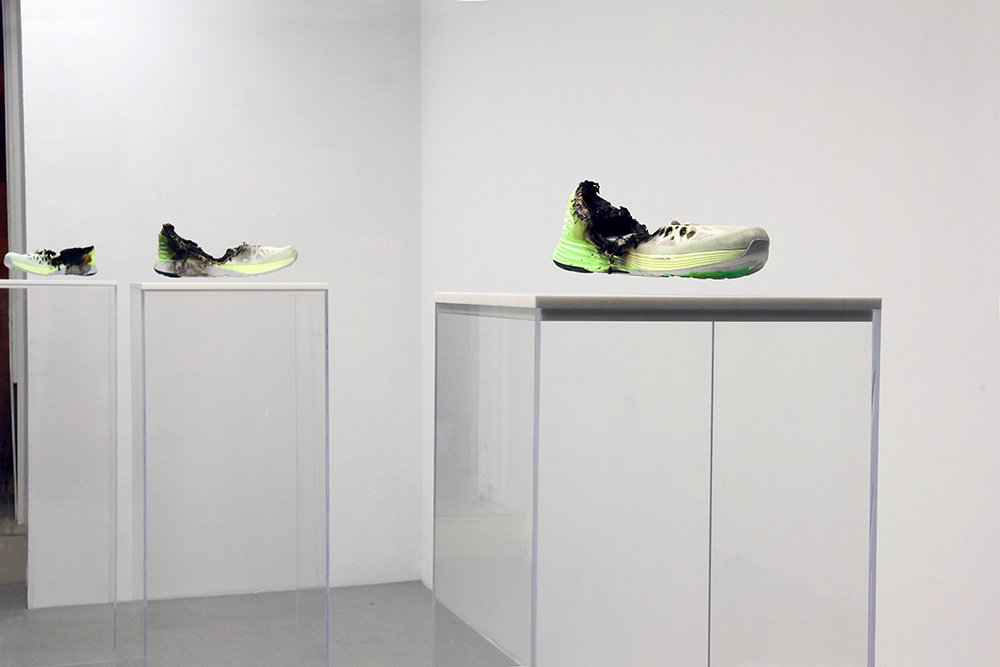 The Radiant @ 8 Eleven Gallery, Toronto
In their 2012 collaborative work, How to improve the world (you will only make things worse), Craig Fahner and Steve Gurysh drew from a genealogy of energy, enacting a performed circuit through a reenactment of the 1976 Montreal Olympic torch relay, in which a flame is transformed from fire, to electronic signal, and back via an absurd technological spectacle. This performance served as a platform for the interrogation of a technological progression, remystifying its process into Promethean ritual.
In The Radiant, Fahner and Gurysh further investigate technological processes through the evolution of lifestyle economies, proposing, through immersive and sculptural works, a materiality characterized by aspiration and weightlessness.
Opening July 14, 7 pm
PUBLIC PROGRAM:
A screening of How to improve the world (you will only make things worse) + BBQ using the Olympic flame

Museum of Contemporary Canadian Art
952 Queen st. West
July 12, 6 PM
Review by Terence Dick for Akimbo
---
May 10, 2015
H3O/OO2 : presented by The Drift x CUIR, Pittsburgh
H3O/OO2, co-curated with Scott Andrew of the Drift and co-presented with the Center for Urban Intervention Research (CUIR). For H3O//002, the Drift partnered with CUIR and students from a course offered by CUIR director Ali Momeni in the School of Art at Carnegie Mellon University. Throughout the semester, the Drift, CUIR and students in the course developed a custom array of audio/visual rigs and installations, virtual reality experiences, and site specific performances.
In addition to these collaborations and student projects, the Drift curated a selection of 15 works, commissioning 6 new pieces for debut, by an international group of artists working in video, animation, and sound.

www.the-drift.org
---
April 19, 2015
Open Engagement 2015, Pittsburgh
New project RPM debuts at Open Engagement, this multi-part performance work by the Drift and the Institute for New Feeling presents a series of energy vortexes for audiences to encounter in 5 locations throughout the city of Pittsburgh. This project is funded in part by the Pittsburgh Foundation, the Frank-Ratchye STUDIO for Creative Inquiry, and the Pittsburgh Downtown Partnership.
---
March 27, 2015
I will be giving an artist talk at the Alberta College of Art and Design. The lecture will be followed by a workshop designed to develop workflows for importing navigatable 3D environments created in Unity into a smartphone using Google Cardboard toolkits.
---
January 30 - March 27, 2015
Felt Book @ Spaces, Cleveland
New work exhibited at Spaces in Cleveland for the release of Felt Book by the Institute for New Feeling. This publication is a collection of home remedies inspired by the structure of Fluxus scores, YouTube tutorials and eHow articles. Felt Book spans 40+ artists and encompasses works that are as minimal as one sentence, in addition to video, interactive, and sculptural formats. - See more
here
---
January 16 - March 15, 2015
An Earthquake at the Racetracks @ El Museo de la Ciudad, Queretaro, Mexico
Excited to announce that my collaborative work with Craig Fahner, How to improve the world (you will only make things worse) will be exhibiting in Earthquake at the Racetracks, a group show curated by Xenia Benivolski and Jurgen Dem at El Museo de la Ciudad in Queretaro, Mexico.
Rosa Aiello
David Court
Craig Fahner and Steve Gurysh
Nadine Fecht
Nina - Maria Küchler
Tobias Madison
Fabian Marti
Lukas Marxt
Aleksandra Mir
Janek Simon
Julia Weißenberg
Guerrero 27 Norte, Centro Historico. Queretaro, Qro. 76000 Mexico
---
August 21 - September 13, 2013
The Long Cloud @ The Engine Room, Wellington, New Zealand
I am pleased to announce my solo exhibition of The Long Cloud at the
Engine Room
in Wellington, New Zealand.
Opening Wednesday Aug 21, 5.30pm @ The Engine Room
PUBLIC PROGRAM:
Conversation with Gil Hanly On Thursday August 22 at 12.30pm, Whiti o Rehua School of Art is delighted to host a conversation in the gallery between Steve Gurysh and Gil Hanly on The Long Cloud. Hanly's iconic image taken on 12 December 1987 Sinking of Rainbow Warrior Vessel totally immersed leaving a disturbance holds a central place in Gurysh's project. Organized and moderated by Maddie Leach.
Artist Lecture, Aug 23rd, 11:00 AM @ the Museum Theatrette on Massey University campus
---
June 6 - July 13, 2013
To the Source: William Lamson and Steve Gurysh, 1708 Gallery, Richmond
1708 Gallery is pleased to announce its upcoming exhibition, To the Source: William Lamson and Steve Gurysh, on view June 6 through July 13. Join us for a gallery talk and opening reception on Thursday, June 6, from 6 to 8 p.m. The talk will begin at 6:30 p.m.
To the Source considers notions of exploration, interdependence, and survival. Through video, sculpture, and installation, Gurysh and Lamson investigate our relationships with the natural world, using artistic inquiry to suspend cultural binaries separating what we consider scientific or spiritual, human or nature, aesthetic or functional. Dispensing with the trappings of orthodoxy, the artists suggest a present necessity for rigorous wonder.
William Lamson's video work Action for the Delaware features footage of the artist standing on the surface of the Delaware River. The video contrasts shots of Lamson's floating, slowly rotating figure, rigidly standing on a submerged vessel, against clips in which he has fallen into the river and desperately struggles to stand atop the floating base. Like an undiscovered extreme sport, Action for the Delaware simultaneously brings to mind the statuesque, land art, and natural history.
In the vein of artist predecessors who hybridized the languages of sculpture and biology like Mark Dion and Joseph Beuys, Steve Gurysh's Projected Wetlands is a sprawling solar-powered drawing machine that measures local air quality using living lichen, a fog machine, a custom-machined printer, and urine (among other errata). Off the grid and on a tangent, Projected Wetlands captures the imagination like the work of a visionary doomsday prepper.
---
March 30 - April 21, 2013
Basement Miracle @ the Miller Gallery, Pittsburgh
MFA Thesis Exhibition,
Basement Miracle
at the Miller Gallery, Carnegie Mellon University, Pittsburgh PA
Featuring:
Craig Fahner
Dan Wilcox
Erin Womack
Felipe Castelblanco
Luke Loeffler
Scott Andrew
Steve Gurysh
---
January 21 - February 15, 2013
Metaphysical Interventions @ LeRoy Neiman Gallery, New York, NY
Group exhibition curated by
Matthew C. Wilson
at LeRoy Neiman Gallery, Columbia University, New York NY
We are inscribed in a physical world of immediate sensory information, beyond which lie vast and varied metaphysical territories of being and knowing, from cosmic bodies to belief systems. Yet, as if in two places at once, eyes and ears may become vehicles for excursions into these territories, into the structures operating in the background of life. An action in the explicit world may be coupled with abstract intention, performing an intervention in unseen structures by cutting across joints of mind and matter at points of overlap – allowing their relationship to be re-formed.
The artists selected for Metaphysical Interventions manipulate subtle and seemingly inaccessible forces of natural, supernatural, psychological, and social order. Their works deploy a variety of methods – from ritual to storytelling – in order to directly engage with perception, phenomenon, belief, imagination, and history. The sensibility of the artists, sometimes serious, sometimes humorous, sometimes both, form an integral part of the complex constellations that emerge from these works. Through their metaphysical interventions, these artists re-enchant and re-vitalize the world.
Artists:
Jesse Bransford
Angela Ellsworth
Steve Gurysh
Karsten Krejcarek
Eduardo Navarro
Matthew Ronay
Oscar Santillan
Saya Woolfalk
---
October 1 - 10, 2012
VIA Music and New Media Festival
Azimuth, a new work created in collaboration with
Luke Loeffler
, deployed on the Allegheny River as a part of the VIA Music and New Media Festival, Pittsburgh, PA.
---